Nutrition Essentials: Frailty
booklet
Collection
Course
Nutrition Essentials: Frailty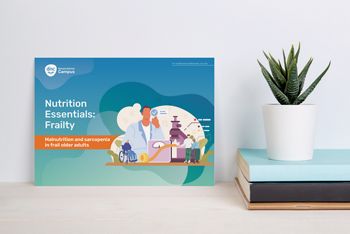 Nutrition Essentials: Frailty
Frailty, a prevalent syndrome in older adults, results in diminished strength and physiological function, rendering them vulnerable. This condition is influenced by factors such as inactivity, malnutrition, and sarcopenia, which are common in the aging population.
Malnutrition affects about half of older adults in care homes and one-third living  independently, leading to reduced muscle strength, increased fall risk, and slower  recovery. Its economic burden includes more hospital admissions and extended stays.
Sarcopenia, characterized by progressive muscle loss, closely relates to malnutrition. Patients with malnutrition face a higher risk of developing sarcopenia, with  prevalence rates reaching up to 76% in rehabilitation settings.
Nutrition plays a vital role in managing frailty in older adults. Early screening allows for targeted nutritional interventions. Recommended protein intake and exercise for muscle function may not suffice when nutritional deficit is significant. Studies show that muscle-targeted oral nutritional supplements containing whey, leucine, and  vitamin D, could be an effective solution to help patients meet their nutritional  requirements, increase muscle mass, strength, and  physical performance in patients with sarcopenia.
Curious to find out more about  the management of malnutrition in frailty? Take a look at our  "Nutrition Essentials: Frailty" booklet now! 
Nutrition Essentials: Frailty
Nutrition Essentials: Frailty
Nutrition Essentials: Frailty