Nutrition Essentials: Stroke
booklet
Collection
Course
Nutrition Essentials: Stroke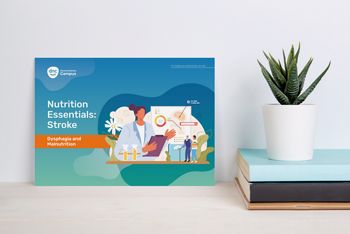 Nutrition Essentials: Stroke
Stroke, the second leading cause of death and a leading cause of adult disability worldwide, presents complex challenges due to its multifactorial nature. Each year, over 12 million people suffer from stroke globally. Post-stroke complications, including dysphagia (swallowing problems), malnutrition, reduced muscle mass, and pressure injuries, can significantly impact recovery and outcomes.
Dysphagia occurs in up to 78% of stroke survivors. Swallowing problems can lead to malnutrition and dehydration, affecting not only physical health but also psychological well-being and independence.
Malnutrition, a prevalent concern affecting up to 62% of stroke patients, extends hospital stays and raises mortality risks. Timely screening using validated tools can identify nutritional risks and dysphagia, enabling early interventions.
For stroke patients, specialized nutritional approaches like oral nutritional supplements and enteral tube feeding offer essential support on their path to recovery. Additionally, using texture-modified diets and thickened liquids can reduce the risk of pneumonia and enhance nutritional intake, providing comprehensive care to address the challenges that stroke brings.
Read our "Nutrition Essentials: Stroke & Dysphagia" booklet to learn more about this topic.Understanding Malnutrition and Sarcopenia in Frail Older Adults
Nutrition Essentials: Stroke
Nutrition Essentials: Stroke
Nutrition Essentials: Stroke